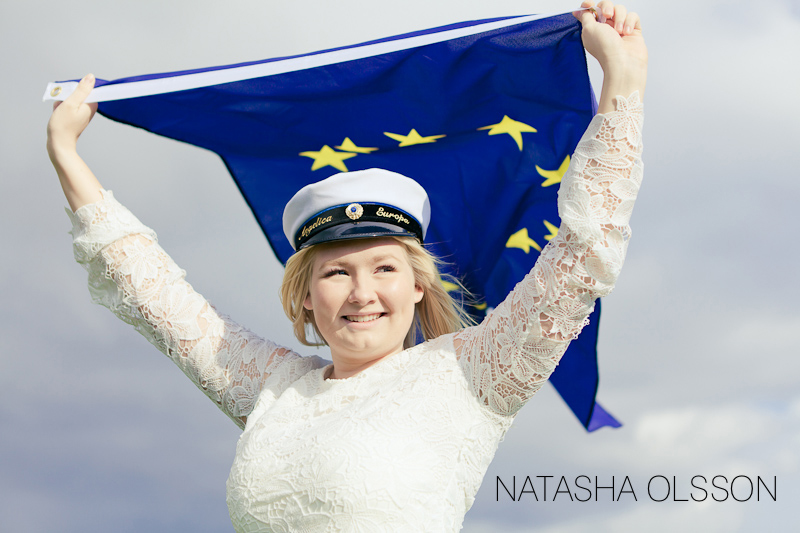 Student photo session with *probable* future Finance Minister of Sweden. She will definitely fit as one!
I draw a picture of her in my mind before I met her for her high school student photo session. A confident successful young woman who despite her young age has a lot on her achievements list. Funny, but my gut feeling got it all right. And as she stepped out of her car one stormy afternoon I just had to add a sincere smile to the picture.
Angelica is 19 years old and is about to graduate gymnasium. Her gymnasium program is oriented on European studies. Three fantastic and stimulating years that helped her develop and mature as a person. Three years filled with many exciting meetings, debates in different countries of Europe, study visits to Berlin and Brussels. Now standing on the finish line with one foot she is smiling as we talk about her future career. Whatever university she will end up at, I am sure, Angelica will show her best there too.
She practiced swimming for many years, but had to quit two years ago. However exercising and food are two of her main interests, besides the politics. Yes, you heard me right – politics. She is an active member of the board in the Youth League in southern Älvsborg. She enjoys talking numbers and economics as much as sharing a dinner with her friends in the new restaurant. If you haven't notice, Angelica always has something on her mind and that's the way she likes it.
By her side Angelica has her family and her mom. As they say: behind every great kid there is a great (and proud) mom! During our student photo session she was the one to give Angelica support as she was changing her dresses or hold her umbrella as we felt first raindrops. She was there – helpful and proud – with the look of admiration in her eyes as she saw her beautiful grown up daughter.
Despite her young age Angelica got it all figured out and I wouldn't be surprised at all if one day she will end up as Finance Minister of Sweden. Angelica, you have my vote! ;)
Stay fabulous and get in touch!